Tex Mex is a big favorite in our house hold and so I thought what the heck, tonight I will go all out and try make everything from scratch. As I have just started this blog tonight AFTER I cooked dinner, I did not take pictures but I will in future so bare with me. Its all a work in progress as are my culinary skills! So I will use stock photos where possible for now, where fitting.
So earlier in the day, I got two boneless breast of chicken out that I had defrosted and I butterflied both of them. This made it much easier to cut in to thin strips. When I was done cutting the chicken up into strips, I placed them in a container, and added the following, mostly eyeballing as I went. You can use a plastic seal bag too if you like. Whatever works best for you.
Chicken Marination:
3 tbs of lemon juice and 3 tbs of lime juice - Enough to coat the chicken when all the spices are added.
1 tbs of Ancho Chili Powder.
1 tsp of salt and pepper.
5 slices of Jalapeno pepper.
Note: Normally I would buy fresh Jalapeno peppers but I had none, so I used 5 slices from a jar of sliced Jalapeno peppers in juice.
Again, eyeball the mixture, if too dry, add more of the lemon/lime juice, just enough to keep the mixture wet. Mix well and then cover and put in the fridge over night if you can. If that is not possible for whatever reason, at least give it an hour in the fridge. I left mine in for about four hours.
Once I had put the chicken in the fridge, I cut up the following:
1 Large thinly sliced onion.
I seeded and sliced these up thinly and then put them in another container and used the same marinade from above, only smaller (eyeballed) measures. Again, just enough to wet them with the spice mixture. Of course as always, everyone has their own favorite spices, so use what you like from my list or replace with your own preference. Again I left these marinating in the fridge along with the chicken until I was ready to use.
Homemade Flour Tortillas!
Now I have made homemade Tortillas before with pretty decent success but I have to admit the results tonight where not the best; they where edible enough and better than what you would buy in the store but not quiet to my liking.
I searched on line and found several recipes but ended up using one that was very easy to follow and well put together on YouTube. I used Blanca Diaz's FLOUR TORTILLAS (Step-by-step recipe) as follows:
http://www.youtube.com/watch?v=LEz0puaKNTk&feature=related
I followed this to the letter, the only difference was that I left the Tortilla dough rest for more than 15 minutes because I was getting other foods started. So I don't know if this affected the overall result or not. I will have to look into this. Feel free to comment to let me know!
Once I got round to getting the dough out to form into small balls, approximately 20mins or so, I took out my Cast Iron Tortilla press and a rolling pin. Now I have to say, I was all excited when I bought my Tortilla press sometime ago but had only used it once prior to tonight and I wasn't all that blown away with it. So I thought a second time might be different. It wasn't. It works well enough but it makes
very small Tortillas. I have to admit I really prefer using the rolling pin, as I find I have more control over the size of the Tortilla. Having said that, it is all a matter of preference so whatever works best for you, use it.
So this dough made up 8 balls and I rolled out into medium size Tortillas, and as I wasn't ready to make them up just yet, I layered two at a time in between sheets of parchment paper and them put them into a zip lock bag and put in the fridge. I had researched online and it seems that this is OK to do if your preparing food ahead of time, although I believe you can store uncooked Tortillas like this for no more than two days. Again, I don't know if this might have added to my less than satisfactory results when I did eventually heat them up. Again, all feedback on this welcome.
Mexican Rice:
So while my Chicken, Vegetables and Tortillas rested in the fridge I started on my Mexican Rice. Now the following recipe was given to me by an acquaintance some time ago and I have to say, it really turns out lovely. Very flavorful and colorful and taste yummy! I did add some Jalapenos to the mix, which wasn't' in the original recipe given to me. Really added a nice kick! So make us as follows: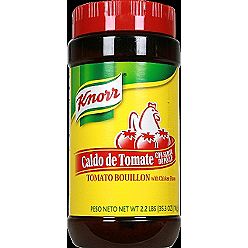 1/2 tsp of Minced Garlic.
2 Cups of Long Grain Rice.
1/4 (4 oz) can of Tomato Sauce.
3 tsp of Knorr Caldo de Tomate
(Chicken Bouillon with Tomato Flavor).
Heat oil in a large non-stick skillet. While your doing this, blend the onion and Jalapeno together in a blender. My blender of choice these days is the wonderful Ninja Pro, this product rocks! Once you have those two blended. Pour into your oiled skillet and saute.
Heat oil in large non-stick skillet (my preference of course will always be a Cast Iron Skillet) and stir for about a minute. After which, add your two cups of Long Grain Rice to the skillet and brown for about 5 minutes approximately. Now I must admit, I didn't brown my rice long enough tonight, so although the flavor and color was really tasty as per my in house taster, the rice was not as soft as I we would like it to be. So FYI, don't skimp on the 5 minutes browning the rice if possible. Don't have your skillet too hot either, you don't want anything burning. Nothing worse than a burnt flavor to your food, nothing ruins a meal more, all that hard work out the window!
Once your rice is brown, add the tomato sauce and stir to coat. Then add the water and then the

Knorr Caldo de Tomate, along with the Cumin and heat to a boil. Add your Salt and pepper to taste, then reduce to a low simmer and cover for approximately 20 minutes, stirring occasionally for the first 10-15 minutes. Yummy!
So about this time, my in house food taster arrived home so it was time to put everything together. I took out the Chicken and Vegetable mixture out of the fridge and let them rest for a few minutes. Then I turned on my oven to about 250 degrees and put in my Cast Iron Oval Fajitas griddle to allow this to heat up for later.
At the same time, I put my Cast Iron Shallow Round griddle on the electric hob and allowed that to heat up on medium heat so I could use that later for the Tortillas.
Lastly I took out my go too Cast Iron Skillet and heated that up on the electric hob, this I used for cooking the Fajitas and Onion mixture. My Cast Iron is well seasoned and with the marinade on the Chicken and Vegetables, I had no need to put any oil in the skillet. So I layered in my Vegetables first, and saute them a little before putting in the Chicken. I just let them do their thing in the skillet, turning every so often until they where done. I must add that the aroma coming off this mixture is just delicious!
Now don't neglect the Mexican Rice. By this time your rice should be done. Fluff with a fork and taste! Then when your Chicken & Vegetables are just about done, start putting your Tortillas on the Cast Iron Shallow Round griddle so that they will be nice and cooked and warm when your serving the food. Take out the Cast Iron Oval Fajitas griddle from the oven and pour your Chicken & Vegetables mixture onto it and hear that lovely sizzle!
I served the Mexican Rice with the Chicken Fajitas and home made Flour Tortillas, along with sour cream and a Mexican Cheese Blend. This was all washed down with good ole unsweeten home brewed Ice Tea.
Now is there anything better!
"If a pot is cooking, the friendship will stay warm" ~ Arab Proverb!